PCS Online Conveyor Cartons Coding System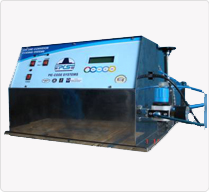 This online batch-printing system is a compact electro-pneumatic coding assembly used to code various statutory information's like B.No. Mfg Dt., PKD, & M.R.P. etc on show case or inner cartons. It is a customized solution as per requirement of the manufactures depending on the application of the product & it is also suitable for parental packing line. This online batch-printing system consists of a multi-purpose coding machine, product stopper with synchronized product pusher & sensing arrangement.
It is fully automatic coding system which once set, the whole system operates automatically & codes on cartons, which are moving on packing conveyor. It has been specially designed keeping into consideration that it is user friendly, low maintenance & easy to use on packing conveyor. It saves a lot of time & labor as it codes online as & when the product passes from the conveyor. It comes with programmable logic controller which has features like batch counter, function display, password facility, & buzzer facility etc. It is useful for different type of cartons (sizes & printing area) & is workable at different speeds. PCS-ONLINE CODER provides sharp coding with precise registration on the particular location of carton.
The Synchronized coding operation: PCS has developed a very special & tyPCSal type of batch-printing operation in this coder. The sensor senses the product when it moves (one by one) on the conveyor & as soon as the product comes in front of optic sensor, at that moment the product pusher & the print head operates simultaneously for printing. At this time other cartons are kept on hold (in queue) by the help of vacuum gripper so only one carton can enter for coding & after coding this carton only then another carton will enter the code-printing arrangement.
Once the printing/coding is completed, the stopper will release carton automatically & this cycle will continue for further printing/coding process. It works on a very simple but important idea: "No Carton No Coding"
---
Batch Printing Machines
Testimonial
| | | |
| --- | --- | --- |
| | | |
| | "We are users of PCS code printing machine since ten years now, & are extremely satisfied with the sturdy make of the coders & almost zero maintenance coupled with excellent after sales service" | |
| | | |

Mr. Hari Mohan
Director of Lakshmi Processed Foods Pvt. Ltd.